If your kid's birthday is around the corner, you're probably already working up a sweat thinking about the party planning. Well, while we cannot take the stress away from planning the event, we can pitch in a few ideas to make it a grand success! Here are few tips that will add some excitement to your little one's birthday bash: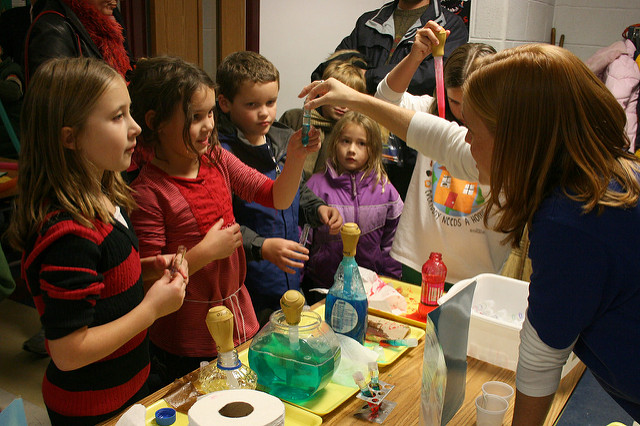 Image Credits: Flickr
Create a game around the birthday cake
Why stick to the conventional cake display when you can build a fun game around it? Consider organizing a small dessert counter with trays of regular cupcakes, muffins or mini cupcakes. Use icing to frost the cupcakes or cream cheese to top the muffins. Lay out several small bowls of colored sugar, chocolate chips, and sprinkles and allow the children to make their own unique creations. Put all the cupcakes/muffins together in the end and let that be the final birthday cake for your kid!
Make it a theme/story-book character birthday party
Kids love characters from storybooks and comics and will be thrilled to dress like them and have a party planned around them. Ask your child if they would like a birthday party which has their favorite cartoon or storybook character as the basic theme. It would be exciting to have something like Angry Birds or Minecraft as the theme of the party. You could make your own decorations on the theme and download some fun invites from the Internet to send out to the guests!
Ensure that games are the highlight of the party
What is a kid's birthday party without some entertaining birthday party games, right? Whether you are organizing an indoor house party or a backyard extravaganza, there are plenty of exciting activities and games that you choose from. For a backyard event, you could consider water tags, an obstacle course, LEGO SoccerBots, Portable Laser Tag, Archery Wars and several other games. If you're indoors, a mobile gaming cart, Giant Jenga, graffiti wall, and LEGO SumoBots will be pretty cool game options. Visit Game Crazy Party for all these games.
Don't forget the goody bags
If there is one thing that kids really love after birthday games, it's their goody bag. And the fact is that they might not even care about what is inside them, but just the idea of getting something to take home is exciting for them. So you don't need to go bonkers looking for expensive or fancy gift items. Even a small candy box or crayon set would do! Just remember to pack it well and maybe add a bubble bottle if your budget allows.
Involve the birthday girl/boy
You don't need to take on the entire responsibility of planning your kid's birthday. Get them to lend a hand and you might end up having a great time together. Yes, party planning is an excellent bonding exercise. Sit them down to make invites and create decorations for the party. This will also give them an opportunity to use their art and craft skills!
For more details, get in touch with Game Crazy Party at http://www.gamecrazyparty.com