If you and your family love playing Minecraft together, then it's probably a brilliant idea to throw a Minecraft-themed birthday party for your kid! And the good news is that the decoration for a Minecraft-themed party is super fun and easy because you have so many simple graphics to play around with. Also, you'll find unlimited ideas on the Internet too.
Here are all the necessary tips to help you get started. Let's plan a Minecraft-themed birthday party!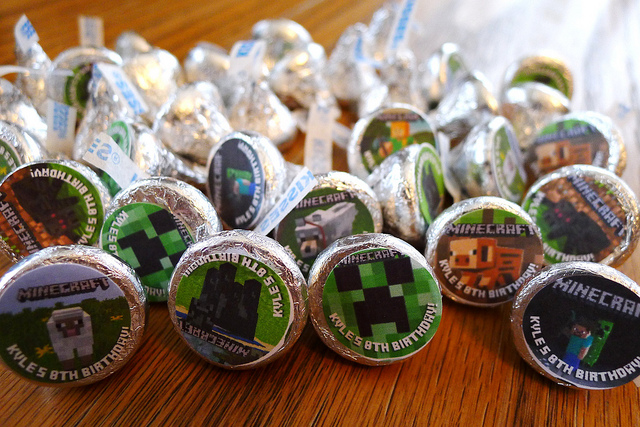 Image Credits: Flickr
Party invitations
With a Minecraft theme, you don't need to bother purchasing invitations; you could simply download a free printable version from the web or customize a paper block with the funky Minecraft font. Ask your kid to pick a separate block for every guest and give them an unassembled or flat invite. This way, they could bring the block back to the birthday party.
Food ideas
You don't have to go crazy putting out a thousand different food items for the invited guests, but you can definitely make the food presentation a little more 'Minecrafty'. Here are a few simple and inexpensive foods that you could label or present in tandem with your chosen theme:
Dirt brownies
TNT candy sticks
Tiny cooked chicken bites
Popcorn in small paper bags
'Redstone' strawberries
Pretzel sticks
Green or blue jelly
Cookies
Birthday cake
There are a million ideas for a Minecraft-themed birthday cake available on the Internet today. And if you don't wish to bake a cake at home, you could simply order one at a custom cake shop. For those who like baking, here is a super easy idea for a Minecraft-themed birthday cake. Instead of baking a complete block of cake, make individual blocks that represent snow, TNT, water, sand, and grass. You will easily find instructions for this cake on the web!
Games
And now let's come down to the main subject of party planning- games! A Minecraft theme gives you plenty of games and activities to entertain your guests. Kids absolutely love playing Minecraft. So there is nothing better than allowing your little guests to indulge in some networked Minecraft gaming in your house. The kids could enjoy a range of different educational experiences while playing these Minecraft-themed games; for example, creating unique NPC characters through Redstone circuits and learning to use JavaScript to mod Minecraft. Gamecrazy.com can provide you with all the equipment necessary for these exciting activities.
Some other fun Minecraft-themed birthday party games include:
Lighting the TNT
Creeper dodgeball
Splash Potions vs. Enderdragon
Minecraft crafting
Musical blocks
Decorations and giveaways
The simplest way to decorate for a Minecraft-themed party is to get black and green streamers and balloons from a local party shop. You could also hop into a recycling store to get cardboard boxes and buy some tinted color paint to decorate them. Also, consider using some creeper lanterns, creeper balloons, wall torches, and creeper cups. For party favors, you could think of creeper or TNT-themed bags, creeper t-shirts, papercraft activities or healing portion in tiny drinking bottles.
For more details, get in touch with Game Crazy Party at http://www.gamecrazyparty.com