Your kid's birthday party is perhaps one of the most important events of the year and requires plenty of thinking and planning. But if you're considering hosting a birthday party at an outside venue, such as a kid's club or playground, think again.
While you can definitely throw an expensive party outside and blow more than $1,000 on basic party planning, the impact may not necessarily be as grand. On the other hand, you could save a lot of money organizing the party in your home backyard (or inside) and allow your little guests to have double the fun! More food, more decorations, more activities, more laughter!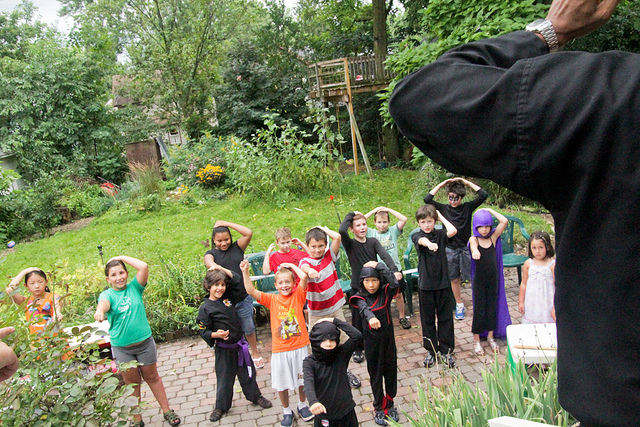 Image Credits: Flickr
Here are some key reasons why throwing a home birthday party works in your favor:
Save on food expense
Don't worry if you have a limited budget; a backyard birthday party gives you the option to serve easy and affordable food items like hot dogs, chips, and candy. Kids love these treats and don't really need an extensive, sophisticated buffet. And of course, a cake will always make them happy!
A chance to get creative
If you've been putting off doing some art and craft projects with your kid, this is the time to grab all those magazines and take inspiration from the web. How about having some fun and creating your birthday decorations at home instead of buying them from a store? Select a fun theme like Minions, LEGO, Minecraft or Angry Birds and throw the coolest kids' birthday party in town. And don't forget to get your little one involved. They can help you make the invitations and create decorations. Another plus- they learn some party organizing skills.
Double the games, double the fun
When you plan a birthday party somewhere outside, there is always a limitation when it comes to playing games or planning kids' activities. But with a party in your backyard, you can go all out and get the kids to play as many birthday party games as they like. And the options for both indoor and outdoor games are unlimited- video game bus, graffiti wall, laser tags, Giant Jenga, LEGO SumoBots, water tag, obstacle course, Minecraft and much more! Check out these multiple options at Game Crazy Party.You could even pick a theme for your kid's backyard birthday party and organize games around that theme. Think Angry Birds, Minecraft, LEGO or any other unique idea that your child may have!
A more memorable event
There is no denying the fact that birthday parties organized at home are the most memorable ones. Think back to your own childhood and recall which parties you liked the most. The answer would likely be the ones organized at home or in your backyard with your friends and family around. There is definitely something special and unique about home parties. Your kid might be bored of visiting the same venues for every friend's birthday. Wouldn't it be great to plan a party that invites everyone to experience the warmth of your house?
For more details, get in touch with Game Crazy Party at http://www.gamecrazyparty.com